Entrepreneur, Engineer, Innovator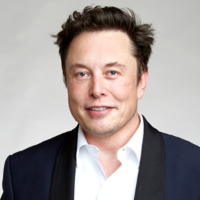 Aiming to reduce global warming through sustainable energy production and consumption. Planning to reduce the risk of human extinction by making life multi-planetary and setting up a human colony on mars.
Projects
Aug 2013 to
Hyperloop
Founder
"Hyperloop," an invention that would foster commuting between major cities while severely cutting travel time. Ideally resistant to weather and powered by renewable energy, the Hyperloop would propel riders in pods through a network of low-pressure tubes at speeds reaching more than 700 mph.
SpaceX
Oct 2015 to Present
AI and Neuralink
Founder
I pursued an interest in artificial intelligence, becoming co-chair of the nonprofit OpenAI. The research company launched in late 2015 with the stated mission of advancing digital intelligence to benefit humanity.
Jan 2018 to Mar 2018
Flamethrower
We also reportedly found a market for The Boring Company's flamethrowers. After announcing they were going on sale for $500 apiece in late January 2018, he claimed to have sold 10,000 of them within a day.
The Boring Company