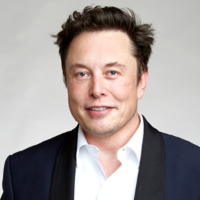 Elon Musk
Entrepreneur, Engineer, Innovator
Aiming to reduce global warming through sustainable energy production and consumption. Planning to reduce the risk of human extinction by making life multi-planetary and setting up a human colony on mars.
Download Resume
Skills
Thinking through first principles. Marketing. Micro management. Goal oriented. Resiliency. Future focused. Leadership. Creativity. Time management. Persistence. Turning ideas into companies. Long term thinking.
Interests
Physics. Sustainability. Philanthropy. Alternate Energy. Space Engineering. Reading. Video games. Twitter. Extraterrestrial life. Artificial Intelligence.
Accomplishments
Top 5 richest people in the world - Forbes. 10 worlds most powerful people - Forbes. Business person of the year - Fortune magazine (2013). FAI Gold Space Medal (2010).
Hyperloop
Founder
"Hyperloop," an invention that would foster commuting between major cities while severely cutting travel time. Ideally resistant to weather and powered by renewable energy, the Hyperloop would propel riders in pods through a network of low-pressure tubes at speeds reaching more than 700 mph.
SpaceX